With the rest of the 2022 football class heading to campus in a matter of weeks, we begin our Q&A series. First up is Glenbard South (IL) running back Trevor Burnett. For the second year in a row, Illinois has landed a three-star prospect as a preferred walk-on. Burnett, a 5-foot-10, 190-pound running back, ran for 2,113 yards and 20 touchdowns in 10 games as a senior. He committed to Illinois on December 3, 2021. He chose to walk-on at Illinois over Division-1 offers from Army, Air Force, Kent State, Eastern Illinois, Indiana State, South Dakota State, and Northern Iowa.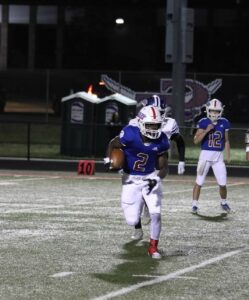 THOUGHTS AND OPINIONS
Tell me something about yourself that might surprise people.
"When I was younger, my brothers and I used to have a singer group."
Who is your favorite football player of all time, and who do you model your game after?
"The GOAT, Barry Sanders."
Your most memorable moment from your high school football career?
"Having 254 rushing yards against our rival school this year."
Did you ever have an embarrassing moment playing football?
"No, not that I can remember."
When did you first realize that you had potential to be an FBS football player?
"Honestly, my first game ever!"
What are you looking forward to the most when you head to Illinois?
"Competition."
A LOOK AT THE RECRUITING PROCESS:
What's the most unique thing a coach said or did during your recruitment?
"Control what you can control."
What was it that made you think, "Illinois is the place for me."?
"God."
What was your favorite moment during the recruiting process?
"The connections you make with coaches."
What was the worst part about the recruiting process?
"The unknown. Not knowing if they truly have interest in you. Not knowing if this is a good fit and things like that."
What school would you have chosen had you not decided to be an Illini?
"Army or Juco."
PERSONAL PREFERENCES
Do you have a nickname?
"Yea, a lot of people call me TB."
What person, dead or alive, would you like to have dinner with?
"Tupac."
Would you rather fight 100 duck-sized horses or one horse sized duck?
"One horse sized duck."
What's your favorite movie?
"Remember the Titans."
Have you decided what you want to major in at Illinois?
"Yes, it's organizational and leadership."
What number would you like to wear at Illinois, and why is that number significant to you?
"2 because it's 2 reasons why I do everything and that's god and family."
ON THE FIELD
What position will you be playing at Illinois?
"Running back."
What is a personal strength that you will bring to the table at Illinois?
"Change of direction and an ability just to change the game."
What is the one thing that you need to work on in order to play at the next level?
"Become even more fast and worry about the little details."
Do you expect to redshirt this season?
"I believe so."
What do you want your legacy to be when you leave Illinois?
"Be the greatest ever there! Make an impact on others and allow Trevor Burnett to be remembered on and off the field."