I am super excited to write my first article for 200Columns.com. Honestly, what a perfect time to offer some perspective and elaborate on some things I had said earlier in the year. This hasn't and isn't a rebuilding year, for many reasons. To me that team who won 6 games in 2019, is still around. The same QB, better running back room with the emergence of Josh McCray and Chase Brown, Same OL which is just a little older, minus Kendrick Green, many of the same targets catch the ball minus Josh BheBhe and insert Luke Ford. Defensively, this team has the same unit minus Nate Hobbs but to make up for Hobbs, playing a system that can better fit its pieces. Most importantly this team has coaches who have proven to win at the college level. That is huge, and to me was the biggest factor.

While, I didn't expect Illinois to win Saturday, I thought they would battle and before the season assumed it would be one of its most challenging games for a team, I saw winning 7-8 games. This bunch shocked the Wisconsin badgers at home and went on the road and came back from 25 points to win in East Lansing. Talent is still in Champaign. Whether you think it's 8 wins or 6, Bowling should happen this year. I listened to every press conference new head coach Brett Bielema has had since his arrival last December. One thing struck me, the importance for him to get rid of this losing culture. While I agree with that, this team had tasted some success that I knew was still inside.

That's why I was so bitter after the Maryland debacle at home and the collapse at Purdue. This team should be 5-3 right now, I think the consensus and majority of fans would agree. I would have had an easier time accepting defeat for the team had they went downplaying to win and letting it loose, to get rid of a conservative approach they had been used to playing for 5 years. Illinois was 4th & 1 away from running the clock down and giving a kicker we all trust a chance to go up two scores with likely around 3 minutes left in the game. I also understand McCray and Brown were knocked out of the game. But to me that's even more incentive to try and win and take advantage of those pass interference calls and honestly the defense was lucky Maryland shot itself in the foot the previous drive, negating a tying touchdown pass. Don't forget this defense had given up 500 yards passing the week before and 42 points. Punting burned the team that week, and again the following week against Purdue. The most conservative Punt I have ever seen. 4th and 2 from your own thirty-four leaves a bad taste. The first two options are going for it and trying to milk some more clock and try to punch it in and put the game away or making it a 6-point game. Illinois drove the length of the field with three minutes left and instead of being down one or leading, they were down by 4. McCourt has been about 50% this year from 50 yards out but he made one from that hash earlier in the game. Illinois lost the game 13-9 and again blew a late 4th quarter lead. This team has plenty of talent and rebuilding team wouldn't sniff a 5-3 record and 4-1 in BIG play. But things have changed since then, in an exceptionally effective way.

DEFENSE HAS LED THE WAY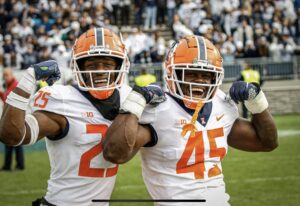 Since the team Gave up 37 and 42 points in back-to-back games to incredibly good offenses from UTSA and UVA. The most this team has allowed is 24 against a Wisconsin team that offense was on the field 70% of the game heading into the 4th quarter. It was only 17-0 at that point and the offense from the Illini didn't even cross midfield until the 4th. What Ryan Walters has done not just with X's and O's But with this team's swagger and confidence to believe in each other and battle for 100 plus plays in 9 overtimes'…is pretty astounding. They will battle and many times make the big play with a 3rd down stop to force a field goal or a big interception. This defense in big ten play has given up 19.5 PPG. Which puts them in the upper half of the league, that's not luck, that's drive, heart and being put in winning formations. They have been shorthanded with Jake Hansen much of the year and even Starting Corner Witherspoon. The defense is in great hands, I expect to see that drive and tenacity the rest of the year, defense continuing to keep the team in the game.

OFFENSE HAS TO PLAY BULLYBALL

Tony Petersen was rather good with the misdirection screens to Barker and even the wide receiver reverse passes. Casey Washington would tell you the first one was an easy completion to IW. The Pass to Art Sitkowski hung up way too long but it was open. But most importantly, sticking to what Illinois does best and that's run the ball. And while some may not think trying to run against Wisconsin would have worked, it honestly couldn't have been any worse than what we saw throwing the ball, and Chase brown didn't have many carries and he broke two of the biggest runs against Wisconsin had against them all year. He wasn't given a chance. Chase needs twenty carries a game minimum. He's a Pro and pleasure to watch, it's been fun watching Josh McCray blossom into this wrecking ball. He reminds me of a slightly taller Alex Collins, who Bielema coach and recruited at Arkansas. He's the current Starting RB for the Seattle Seahawks. This offensive line looks like it's taken the words from Bielema about the depth chart and people doubting them to heart. I expect seeing the 7 lineman and 2 TE set plenty the rest of the way. The "Barge" package and only having Peters throw when he absolutely has too, or an obvious play action has emerged. If Brandon Peters can be decent/adequate this team can win 3 of its final 4 games. Rutgers, Minnesota, and NW are more than winnable. Iowa will be a nasty rivalry game, but I like Illinois in three of the final 4.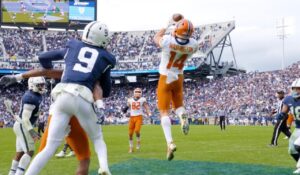 BELIEF IN BIELEMA
I trust and believe this program is heading in the right direction. Two bad games of late judgement aren't going to sway my mind on the overall expectations and belief, but it also doesn't change what happened. Bret knows he has to trust his Guys more and they have played even harder for him. I really like the class of 2022, that is already in place. I expect and have already talked with several JUCO coaches who Illinois is focusing on for OL. The grad transfer QB route is likely as well. Two more home games left, if you can, go show them the same effort you saw in Happy Valley. The momentum is back with Orange and Blue.