A hot start for the Illini Football team could be the difference between a good season and a truly memorable one. The Fighting Illini are primed to have one of their best seasons in years and unlike the 99/01/07/22 seasons this one comes with some expectations. Expectations like this are rare air in Central Illinois.
The Illini are fresh off an 8-win season, an 8 win season that produced a top 5 draft pick along with several other players who are now on NFL rosters. That kind of turnover normally leads to doom and gloom in Illini land, but the Illini return 10 All Big Ten players, most in the Big Ten West and arguably the best Defensive Line in the conference.
Last season's success along with the litany of returning talent has led to a fervor surrounding the gridiron that hasn't been felt since 2008. Ah 2008; a team loaded with NFL talent (14 players had an NFL stint, FOURTEEN), returning star QB, stud WR, tons of talent on defense and fresh off a Rose Bowl appearance went… 5-7! That season was bookended by a tough loss in a shoot out against Missouri and the most nonsensical scheduling move ever, a loss to Western Michigan in Detroit 23-17 (insert Brad Underwood fart noise here). A 5-7 season after a Rose Bowl and being preseason ranked 20th is why are fandom always has cause for pause.
While expectations for this season are generationally high, you must give grace to a fandom that is for lack of a better term approaching this season with the most cautiousness of optimism. For that reason, it is imperative that Illinois has a fast start to the season and the schedule doesn't exactly lend itself to the ease of that happening. Illinois starts the season with MAC champion and favorite to repeat, Toledo. After that the Illini get a short week with a Friday Night game at upstart Kansas led by Offensive Guru Lance Leipold and dynamic Quarterback Jalon Daniels. Kansas fresh off a Liberty bowl appearance, was 5-3 in games Jalon Daniels started and finished KU. Daniels is back in Lawrence on a team that almost mirrors Illinois from an expectations standpoint. Illinois wraps up the 1st Qtr of the Season with Penn St in Champaign on 9/16. The Nittany Lions are ranked 7th in the preseason and have National Championship hopes. James Franklin's bunch has answers everywhere except QB but the PSU faithful have high hopes in Sophomore Drew Allar, the number 3 QB in the 2022 class according to 247 Sports.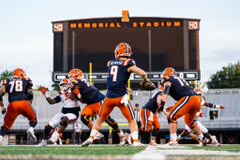 The one benefit of the early schedule is the Illini get 2 of the 3 games at home, will the fans create a true home field advantage?
And that leads me to a concern…
My concern isn't that Illinois won't make a bowl this season, my concern is that if Illinois stubs it's toe in one of it's first two games then a truly battered fan base decides to throw in their chips again and call it a lost season. Lucy can only pull the ball away from Charlie Brown so many times. Don't believe me? You can quickly look to last season to see how brow beaten our fan base is. Illinois starts the season 7-1 and loses a tough game to MSU on 11/5 with an almost full house of 55k+ in attendance. The following week with a trip to Indy and the Big Ten West championship on the line in the most successful season in well over a decade… a whopping 45k+ attended, barely 75% of capacity.
Home games and home crowds matter in college basketball and football (in that order) more than any other sport. For Illinois to truly have a special season this year I believe they will need a Home Field Advantage that hasn't been seen since the late 80s and early 90s and frankly I don't have faith that 60k screaming orange clad Illini show up for us to take on the Nittany Lions on 9/16 with Fox's Big Noon Kickoff (Fox's version of College Gameday) unless their beloved Illini are 2-0. I do believe that a full house of full-throated Illini full off $3 Truly's being sold pre-kickoff can be the energy boost that this team needs to pull a top 10 upset.
I have full confidence that this team will compete for a Big Ten West title and we will go to a second straight Bowl Game regardless of the first 3 games because I believe that Bret Bielema is changing the culture on the field. I firmly believe that starting 2-0 can lead to a 3-0 start and give the team the boost it needs to potentially have a 10 win season+ for the first time since 2001. I believe the team will need the culture and the attitude of those folks who could attend, to change as well to help make this happen. I don't blame the folks if a 2-0 start is what is needed to make 9/16 special, just don't give up on them if they are 1-1.
Is the Kansas game the key to the season? It may just be, and this Illini will be in Lawrence to see if we can make that happen.
Go Illini